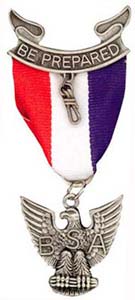 An enormous number of exceptional young men have achieved Eagle rank in Boy Scout Troop 365.
Sponsored by the Worthington United Methodist Church, BSA 365 has celebrated Eagle Scouts since the 1960s. With delight, we find some return to BSA 365 as adults to develop the next generation of boys to men.
Today, under Scoutmaster Jerry Roderick, the tradition continues. Some Eagles entered our Troop rolls under the guidance of Russ Line before he became involved with BSA 365.
Are there friends of yours here? Give them our greetings; have them let us know of their lives.
| | | |
| --- | --- | --- |
| 1 | 1960 | Dan Bennington |
| 2 | 1962 | Dan Nemzer |
| 3 | 1962 | Rich Simpson |
| 4 | 1963 | Paul Hoffman |
| 5 | 1964 | Randy Dipner |
| 6 | 1964 | Dave Foust |
| 7 | 1964 | Paul Chakroff |
| 8 | 1965 | Bob Fisher |
| 9 | 1965 | Dave Rieke |
| 10 | 1965 | Tom Tise |
| 11 | 1965 | Tom Speer |
| 12 | 1967 | Casey Kelley |
| 13 | 1968 | Fred Fisher |
| 14 | 1969 | Gary Yost |
| 15 | 1969 | Ken Foust |
| 16 | 1972 | William Verry |
| 17 | 1973 | Doug Foust |
| 18 | 1976 | Dan Stevens |
| 19 | 1976 | George Callendine |
| 20 | 1977 | Mark Bartram |
| a | 1980 | Robert Slawson |
| b | 1980 | R. Neuenschwander |
| c | 1980 | John Langhirt |
| d | 1980 | Mark Nelson |
| e | 1980 | Tim Turritin |
| f | 1981 | Tim McBrayer |
| g | 1981 | Jeff Morrison |
| h | 1981 | David Ferris |
| i | 1982 | Eric Matthews |
| j | 1982 | Jeff Sweet |
| k | 1982 | Scott Johnson |
| l | 1982 | John Sweet |
| m | 1983 | Eric Anderson |
| n | 1983 | Allen Langhirt |
| o | 1984 | Luke Lumsden |
| p | 1984 | Greg Line |
| 21 | 1985 | Bradley Johnson |
| 22 | 1985 | Sean Cox |
| 23 | 1985 | Jeff Line |
| 24 | 1987 | Dale Roach |
| 25 | 1987 | James McCandless |
| 26 | 1987 | Chris Fortner |
| 27 | 1989 | Steve Albanese |
| 28 | 1989 | John Bourgeois |
| 29 | 1990 | Matt Williams |
| 30 | 1991 | Matt Brown |
| 31 | 1991 | Craig Fortner |
| 32 | 1991 | Aaron Williams |
| 33 | 1992 | Matt Cooper |
| 34 | 1992 | Brandon Comisford |
| 35 | 1992 | Brian Belland |
| 36 | 1992 | Garrick Kazanjian |
| 37 | 1993 | Alex Stavrides |
| 38 | 1993 | Allen Albanese |
| 39 | 1993 | Jay Lambert |
| 40 | 1994 | Andy McIntyre |
| 41 | 1995 | John Cummings |
| 42 | 1996 | Douglas Morgan |
| 43 | 1996 | Ethan Feucht |
| 44 | 1996 | Philip Von Raabe |
| 45 | 1996 | Scot Tedi |
| 46 | 1996 | Shane Comisford |
| 47 | 1996 | Jason Casden |
| 48 | 1996 | Steve Cummings |
| 49 | 1996 | Mike Matthews |
| 50 | 1996 | Jamie Maniatis |
| 51 | 1996 | Robin Martiny |
| 52 | 1996 | Matthew Van Gilder |
| 53 | 1997 | Ben Foust |
| 54 | 1997 | Bob Lawrence |
| 55 | 1997 | Mike Delay |
| 56 | 1997 | Zach Albaugh |
| 57 | 1998 | Matt Banholzer |
| 58 | 1998 | Brian Mitchell |
| 59 | 1998 | Jay Smith |
| 60 | 1998 | Chris Mitchell |
| 61 | 1998 | Kevin Mitchell |
| 62 | 1998 | Tommy Robol |
| 63 | 1999 | Joe Craig |
| 64 | 1999 | Braden Feucht |
| 65 | 1999 | Jim Fischer |
| 66 | 1999 | Jeremy Matthews |
| 67 | 1999 | Jon Stratis |
| 68 | 1999 | Kyle Tingley |
| 69 | 1999 | Zach Hamner |
| 70 | 1999 | Jeff Ishizuka |
| 71 | 1999 | Tim Ryan |
| 72 | 1999 | Ben Zelinski |
| 73 | 1999 | Nate Williams |
| 74 | 2000 | Shawn Nocks |
| 75 | 2000 | Jonathan Tewart |
| 76 | 2000 | Gary Weber |
| 77 | 2000 | Frankie Cleary |
| 78 | 2000 | Geoff Kolb |
| 79 | 2000 | Stephen Adams |
| 80 | 2000 | Wade Clevenger |
| 81 | 2000 | Steven Weber |
| 82 | 2000 | Nathanael Albaugh |
| 83 | 2000 | Andy Crowell |
| 84 | 2000 | Brian Kossmann |
| 85 | 2000 | Ronnie Brooks |
| 86 | 2000 | Tim Fischer |
| 87 | 2001 | Kyle Schottke |
| 88 | 2001 | Michael Elliott |
| 89 | 2001 | Kurt Nelson |
| 90 | 2001 | Rob Robol |
| 91 | 2001 | Greg Boggs |
| 92 | 2001 | Brian Hanscel |
| 93 | 2001 | Ryan Herb |
| 94 | 2001 | Matt Warling |
| 95 | 2001 | Matt Lehman |
| 96 | 2002 | David Hayes |
| 97 | 2002 | John Willis |
| 98 | 2002 | Scott Funk |
| 99 | 2002 | Kevin Rankin |
| 100 | 2002 | Stephen Coss |
| 101 | 2002 | Kevin Ryan |
| 102 | 2002 | Matt Gansl |
| 103 | 2002 | Nick Lawrence |
| 104 | 2002 | Ben Albaugh |
| 105 | 2002 | Andy Beller |
| 106 | 2002 | Jason Tewart |
| 107 | 2003 | Zach Wilson |
| 108 | 2004 | Nathan Van Gilder |
| 109 | 2004 | Alan Yost |
| 110 | 2005 | Kurtis Meyer |
| 111 | 2005 | Joe Miracle |
| 112 | 2005 | Nicholas Anderson |
| 113 | 2005 | Brendan Serpa |
| 114 | 2006 | Andrew Storch |
| 115 | 2006 | Andrew Kulikowski |
| 116 | 2006 | Kyle Schobelock |
| 117 | 2006 | Charles Robol |
| 118 | 2006 | Steven Ottobre |
| 119 | 2006 | Brendan Burkett |
| 120 | 2006 | David Roos |
| 121 | 2007 | Tim Hoffman |
| 122 | 2007 | Alex Mellon |
| 123 | 2007 | David Van Fossen |
| 124 | 2007 | Braden Alsnauer |
| 125 | 2009 | Nate Holcomb |
| 126 | 2009 | Ben Papineau |
| 127 | 2009 | Gregory Serpa |
| 128 | 2009 | Patrick (Tate) Greuling |
| 129 | 2010 | Tom Edgar |
| 130 | 2010 | Chris Burkett |
| 131 | 2010 | Thomas Bailey |
| 132 | 2010 | Harrison Chang |
| 133 | 2010 | Jim Kirk |
| 134 | 2011 | Austin Francis |
| 135 | 2011 | Jason Gaston |
| 136 | 2011 | Brendan Wallace |
| 137 | 2012 | Ben Metersky |
| 138 | 2012 | John Miller |
| 139 | 2012 | Kyle Sink |
| 140 | 2012 | Alex Johnson |
| 141 | 2012 | Mark Arensburg |
| 142 | 2012 | Drew Taylor |
| 143 | 2012 | Jake Anderson |
| 144 | 2013 | Joe Gilligan |
| 145 | 2013 | Brett Sockman |
| 146 | 2013 | Dan Monnin |
| 147 | 2013 | Thomas Stimpert |
| 148 | 2013 | Thomas Matlak |
| 149 | 2013 | David Williams |
| 150 | 2013 | Andrew Subler |
| 151 | 2013 | James Madden |
| 152 | 2013 | Beanie Hallfrisch |
| 153 | 2014 | Kody Prosser |
| 154 | 2014 | Nick Gaston |
| 155 | 2014 | Forrest Eisenschmidt |
| 156 | 2016 | Matthew Gaston |
| 157 | 2016 | Mark Williams |
| 158 | 2016 | Jacob Francis |
| 159 | 2016 | Avery Stupka |
| 160 | 2016 | Scooter Nadolny |
| 161 | 2017 | Tim MacFarlane |
| 162 | 2017 | Ian Cook |
| 163 | 2017 | Luke Bobay |
| 164 | 2017 | Torin Rittenhouse |
| 165 | 2017 | Tony Roskuski |
| 166 | 2017 | Knoble Prosser |
| 167 | 2017 | Robert Grocki |
| 168 | 2018 | Adam Williams |
| 169 | 2018 | Cole Tucker |
| 170 | 2019 | Ryan Connolly |
| 171 | 2019 | Sean Cook |
| 172 | 2020 | Wes McCallister |
| 173 | 2020 | Ethan Deis |
| 174 | 2020 | Aleks Aleksic |
| 175 | 2020 | Sid Reed |
| 176 | 2020 | Luke Williams |