Jerry Roderick, scoutmaster, was awarded the James E. West Fellowship yesterday at the BSA Troop 365 Fall Court of Honor.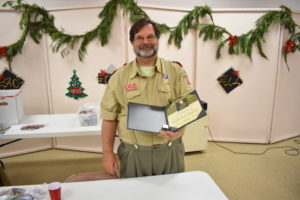 The James E. West Fellowship Award is named after the first Chief Scout Executive of the Boy Scouts of America who exemplified Ralph Waldo Emerson's observation that "an institution is the lengthened shadow of one man." Scouting today is the "lengthened shadow" of more than three decades of the farseeing and dedicated leadership of Dr. James E. West.
Our own scoutmaster Jerry Roderick has cast his own "lengthened shadow" for everything that he has done to support the boys in our troop.
Please congratulate Jerry the next time you see him!